---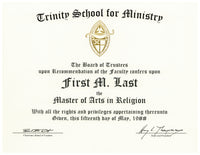 Since our new Official Diploma Frames are made to fit current diplomas, we are able to re-print diplomas from prior years that do not fit these frames with the current format. 
When you place your re-print order, we will verify your degree dates and print out a new diploma certificate with the current format. If you have purchased this with an Official Diploma Frame, the new certificate will be included. 
You have the option of the choosing Trinity School for Ministry or Trinity Episcopal School for Ministry for the certificate. We will do our best to include the signatures of the Dean President and Board of Trustees Chair from the graduation date, but we do not have electronic signatures of all of these officers. Preferences can be communicated in the notes section of the checkout process.